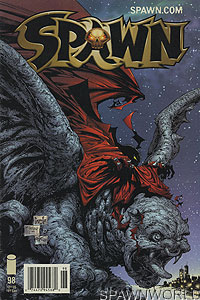 Image: Trent

- Book:
Spawn
- Issue:
98
- Date:
August 2000
- Writer(s):

- Brian Holguin
- Todd McFarlane
(Plot, Story)
(Plot)

- Artist(s):

- Greg Capullo
- Danny Miki
- Todd McFarlane
- Tom Orzechowski
- Dan Kemp
- Brian Haberlin
- John Gallagher
- Boyd Williams
(Pencils)
(Inks)
(Cover Inks)
(Letters)
(Color)
(Color)
(Art Design)
(Art Design)

- Notes:
- This is the newsstand edition. It is printed on newsprint paper and has a upc "barcode" on the front cover.


- The Trouble with Angels (Urizen storyline part 4 of 6)

Unable to get any new information out of Ab and Zab, Spawn and Angela bring them along to confront Urizen. Spawn uses his newfound abilities from Greenworld to temporarily contain the behemoth while Angela leaves to halt the angel attack. Spawn agrees to wait for her return but rushes into battle anyway.

Elsewhere, unaware of the impending apocalypse, Terry and Wanda reconcile after they discover the baby is months farther along than they had thought.