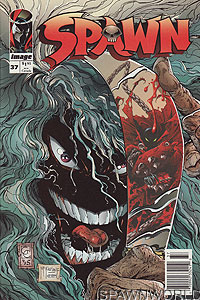 Image: Trent

- Book:
Spawn
- Issue:
37
- Date:
November 1995
- Writer(s):

- Alan Moore
- Todd McFarlane
(Story)
(Plot)

- Artist(s):

- Greg Capullo
- Todd McFarlane
- Kevin Conrad
- Chance Wolf
- Tom Orzechowski
- Steve Oliff
- Quinn Supplee
- Olyoptics
(Pencils)
(Inks)
(Art Assists)
(Art Assists)
(Letters)
(Color)
(Color)
(Color)

- Notes:
- This is the newsstand edition. It is printed on newsprint paper and has a upc "barcode" on the front cover.
- 1st appearance of the Freak

- The Freak

Spawn runs into a bizarre man who calls himself the Freak. After listening to Freak's tale of a demented doctor named Delirium and his evil experiments, Spawn decides to help Freak get revenge.