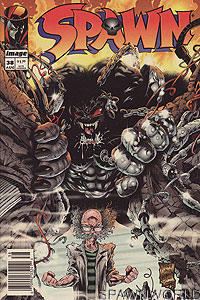 Image: Trent

- Book:
Spawn
- Issue:
38
- Date:
December 1995
- Writer(s):

- Todd McFarlane
- Julia Simmons

- Artist(s):

- Tony Daniel
- Kevin Conrad
- Tom Orzechowski
- Todd Broeker
- Roy Young
(Pencils)
(Inks)
(Letters)
(Color)
(Computer Color)

- Notes:
- This is the newsstand edition. It is printed on newsprint paper and has a upc "barcode" on the front cover.
1st appearance of Cy-Gor

- Mind Games

A man breaks into a seemingly deserted laboratory searching for Doctor Frederick Willheim. Inside, he learns of Willheims bizarre work to save his wife and to create a super-soldier for the government. He also discovers that he is not alone in the lab.