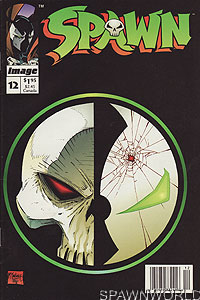 Image: Trent

- Book:
Spawn
- Issue:
12
- Date:
July 1993
- Writer(s):
- Todd McFarlane
- Artist(s):

- Todd McFarlane
- Tom Orzechowski
- Steve Oliff
- Reuben Rude
- Olyoptics
(Cover, Interiors)
(Letters)
(Interior Color)
(Interior Color)
(Color)

- Notes:
- This is the newsstand edition. It is printed on newsprint paper and has a upc "barcode" on the front cover.
- 1st appearance of Jason Wynn (full)
- 1st appearance of Granny Blake
- Spawn reveals himself to Granny Blake

- Flashback (part 1 of 2)

Spawn visits Wanda's blind, elderly grandmother who immediately believes Al is an angel.

Meanwhile, the weapons Spawn stole to fight Overtkill are under investigation by his former boss Jason Wynn. Unfortunately, the trail leads to Terry Fitzgerald who quickly finds himself and his famiy in trouble.