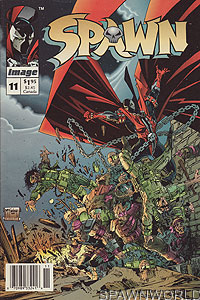 Image: Trent

- Book:
Spawn
- Issue:
11
- Date:
June 1993
- Writer(s):
- Frank Miller
- Artist(s):

- Todd McFarlane
- Tom Orzechowski
- Steve Oliff
- Reuben Rude
- Olyoptics
- Kiko Taganashi
(Cover, Interiors)
(Letters)
(Interior Color)
(Interior Color)
(Color)
(Cover Color)

- Notes:
- This is the newsstand edition. It is printed on newsprint paper and has a upc "barcode" on the front cover.
- 1st appearance of Bootsy
- Spawn reconfigures reality for the first time (by returning home from Erebus)

- Home

A turf war begins between two rival street gangs. Unfortunately, the alley that Spawn now calls home is the battleground. Spawn decides it is up to him to protect the alley and the homeless people who have become his new family.