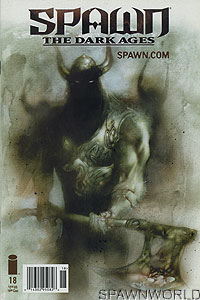 Image: Trent

- Alek
- Beast of the Wood
- Cogliostro
- Covenant
- Fergus
- Gareth
- Hellspawn
- Makus
- Malebolgia
- Necroplasm
- Rhyll
- Book:
Spawn: The Dark Ages
- Issue:
18
- Date:
September 2000
- Writer(s):
- Steve Niles
- Artist(s):

- Nat Jones
- Jonathan Glapion
- Kevin Conrad
- Ashley Wood
- Richard Starkings
- Oscar Gongora
- Jay Fotos
- Drew Hutchinson
- Boyd Williams
- Brent Ashe
(Pencils)
(Inks)
(Inks)
(Cover)
(Letters)
(Letters)
(Color)
(Color)
(Design)
(Art Direction)

- Notes:
- This is the newsstand edition. It is printed on newsprint paper and has a upc "barcode" on the front cover.

- Crucified

Back in Rhyll once again, Covenant has been crucified and will be burned for the massacre the villagers think that he committed. When further killings occur, the village realizes that Covenant could not have been responsible and they return to him to ask his forgiveness and his aid in fighting the unseen evil. Covenant is not to be found, however, as he has been released by a small boy named Alek who saw his innocence when the others could not.

After being released, Covenant went to visit with Cogliostro, and accept the training the old man has offered. Cog is shocked to find that Covenant's necroplasm has been removed from him, and the old man tells Covenant that he is of no use to him any longer.