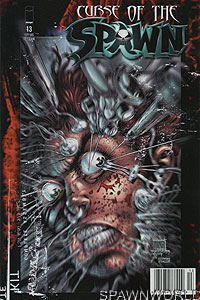 Image: Trent

- A-6
- Aranxia
- El Morte
- Erlich Westerlin
- Heat-16
- Jason Wynn
- Jessica Priest
- Juuko
- Kevin Bergregor
- Liz Arno
- Medlab 005
- Nugen 2.07
- Obersmith
- Valentino
- Winslow Psychiatric Facility
- Zacks
- Book:
Curse of the Spawn
- Issue:
13
- Date:
October 1997
- Writer(s):
- Artist(s):

- Dwayne Turner
- Danny Miki
- Tom Orzechowski
- Todd Broeker
- Mark Nicholas
(Pencils)
(Inks)
(Letters)
(Color)
(Color)

- Notes:
- This is the newsstand edition. It is printed on newsprint paper and has a upc "barcode" on the front cover.

- Heart of Darkness (Jessica Priest storyline part 2 of 3)

Held captive by the twin overseers of Medlab 005, Jessica Priest witness them toy with people's genetic makeup and suffers through their tests. Soon, however, Jessica is able to escape and heads off into the jungle with Heat-16 in hand, but she is being pursued by her mutated ex-compatriots Obersmith and Zacks.