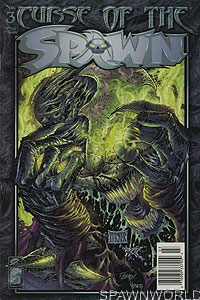 Image: Trent

- Abaddon
- Abel
- Anti-Pope
- Bune
- Daniel Llanso
- Dorro
- Dronecops
- Flechette
- Madrid
- Matthew
- Mortemeure
- Nano-Mites
- Navkies
- Phlegethonyarre
- Siv
- Book:
Curse of the Spawn
- Issue:
3
- Date:
November 1996
- Writer(s):
- Artist(s):

- Dwayne Turner
- Danny Miki
- Tom Orzechowski
- Todd Broeker
- Roy Young
- John Gordon
(Pencils)
(Inks)
(Letters)
(Color)
(Color)
(Color)

- Notes:
- This is the newsstand edition. It is printed on newsprint paper and has a upc "barcode" on the front cover.

- Corpse Candles (Daniel Llanso storyline part 3 of 4)

The forces of Hell intend to converge on the surviving humans' safehouse. The Anti-pope sends the re-babtized Abel to infiltrate their defenses, while the scheming Bune sets an army of Navkies off to attack. When Spawn learns of Madrid and Matthew's impending doom (his sister and nephew), he heads off to save them.