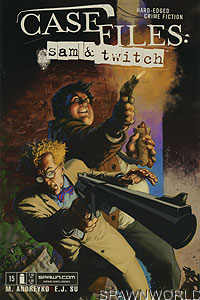 Image: Trent

- Book:
Case Files: Sam and Twitch
- Issue:
15
- Date:
March 2005
- Writer(s):
- Artist(s):

- E.J. Su
- Greg Capullo
- Jay Fotos
- Jimmy Betancourt
- Jason Gonzalez
- Ben Timmreck

(Interiors)
(Cover)
(Color)
(Letters)
(Art direction)
(Graphic design)

- Notes:
(N/A)

- Ancient Chinese Secret, Huh? Part 2

Sam and Twitch question Chu Lai, the supposed descendant of Xie Ye: head of the Black Salamander Clan. She is brazen and confrontational, to which Twitch feels she is hiding something.

Meanwhile, the Black Salamander Clan strikes another group of Drug traffickers at Golden Monkey Imports.