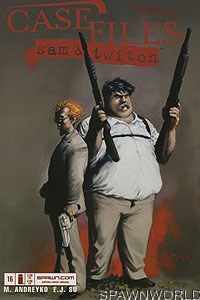 Image: Trent

- Book:
Case Files: Sam and Twitch
- Issue:
16
- Date:
April 2005
- Writer(s):
- Artist(s):

- E.J. Su
- Greg Capullo
- Jay Fotos
- Jimmy Betancourt
- Jason Gonzalez
- Ben Timmreck

(Interiors)
(Cover)
(Color)
(Letters)
(Art direction)
(Graphic design)

- Notes:
(N/A)

- Ancient Chinese Secret, Huh? Part 3

The attack by the Black Salamander forces their prey to flee, and the carnage ends up in a nearby church. Sam and Twitch get involved and a shootout ensues.