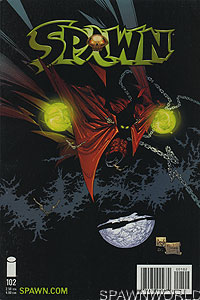 Image: Trent

- Book:
Spawn
- Issue:
102
- Date:
January 2001
- Writer(s):

- Brian Holguin
- Todd McFarlane
(Plot, Story)
(Plot)

- Artist(s):

- Angel Medina
- Danny Miki
- Victor Olazaba
- Greg Capullo
- Todd McFarlane
- Tom Orzechowski
- Brian Haberlin
- Dan Kemp
- Haberlin Studios
- Boyd Williams
(Pencils)
(Inks)
(Inks)
(Cover Pencils)
(Cover Inks)
(Letters)
(Color)
(Color)
(Color)
(Art Design)

- Notes:
- This is the newsstand edition. It is printed on newsprint paper and has a upc "barcode" on the front cover.
- Due to an error on the upc code, there are two versions of this issue. This one with the printed upc, and one with a corrected sticker placed atop the printed upc.


Cautionary Tales - Part 1 (of 3): The Speed of Night

A woman named Thea is on the run from Spawn. She believes he wants to punish her for causing the death of her mother and for simply having her gift - the ability to see people's deaths before they happen.

To save herself from having to face Spawn, Thea makes a bargain with Mammon, but doesn't fully understand the stakes.