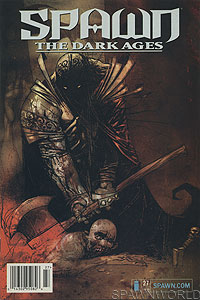 Image: Trent

- Bishop Gaston Gui
- Cogliostro
- Covenant
- Gareth
- Hell
- Hellspawn
- Malebolgia
- Necroplasm
- Book:
Spawn: The Dark Ages
- Issue:
27
- Date:
July 2001
- Writer(s):
- Steve Niles
- Artist(s):

- Nat Jones
- Kevin Conrad
- Rich Bonk
- Ashley Wood
- Richard Starkings
- Oscar Gongora
- Todd Broeker
- Boyd Williams
- Brent Ashe
(Pencils)
(Inks)
(Inks)
(Cover)
(Letters)
(Letters)
(Color)
(Graphic Design)
(Graphic Design)

- Notes:
- This is the newsstand edition. It is printed on newsprint paper and has a upc "barcode" on the front cover.

- Bubonic Nights

Covenant, Gareth and Cogliostro together battle the Gui-Necroplasm beast. When all looks lost, Covenant utilizes things he has learns in the past from his mentors.