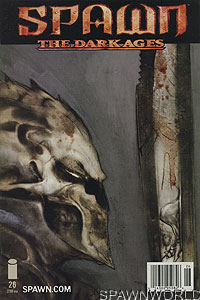 Image: Trent

- Alek
- Bishop Gaston Gui
- Cogliostro
- Covenant
- Gareth
- Hellspawn
- Killian
- Malebolgia
- Necroplasm
- Peter
- Raven
- Rhyll
- Turnbold
- Book:
Spawn: The Dark Ages
- Issue:
26
- Date:
June 2001
- Writer(s):
- Steve Niles
- Artist(s):

- Nat Jones
- Kevin Conrad
- Ashley Wood
- Oscar Gongora
- Todd Broeker
(Pencils)
(Inks)
(Cover)
(Letters)
(Color)

- Notes:
- This is the newsstand edition. It is printed on newsprint paper and has a upc "barcode" on the front cover.

- Lesion

The former hellspawn Covenant, Cogliostro, and Gareth the druid set off to find and battle the forces of Bishop Gaston Gui for posession of the stolen necroplasm. As they depart, the few survivors of Rhyll group with the survivors of Turbold and form a new independent village.

In the stronghold of the Bishop, the dead body of Gui is filled with the necroplasm and a hideous beast is created.