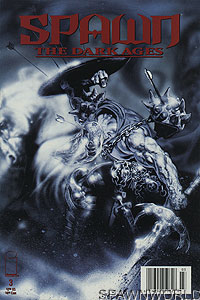 Image: Trent

- Baron Rivalen
- Cogliostro
- Eloise
- Guy DuBlanc
- Lord Covenant
- Pevvyn
- Saladin
- Shiann
- Sisters of the Morrigan
- Book:
Spawn: The Dark Ages
- Issue:
3
- Date:
May 1999
- Writer(s):
- Brian Holguin
- Artist(s):

- Liam McCormack-Sharp
- Glenn Fabry
- Richard Starkings
- Oscar Gongora
- Brian Haberlin
- Dan Kemp
- Josh Myers
(Cover, Interiors)
(Cover)
(Letters)
(Letters)
(Color)
(Color)
(Color)

- Notes:
- This is the newsstand edition. It is printed on newsprint paper and has a upc "barcode" on the front cover.

- Onward (Rivalen arc part 3 of 4)

Covenant escapes the grips of the Sisters of the Morrigan and decides he must once again act as Lord and protect his people from the harsh rule of Rivalen. Cogliostro tries to convince him otherwise, explining he is no longer the man he was, but Covenant refuses to listen.

Rivalen's wife finally succumbs to her illness and the last shred of humanity in Rivalen leaves with her. He orders his gruesome man at arms DuBlanc to slay everyone in Rhyll.