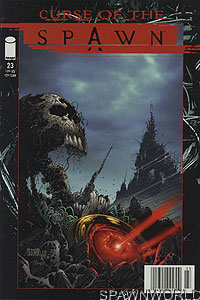 Image: Trent

- Antonio Twistelli
- Christina Rocca
- Dr. Eylan Hessman
- IS-4 DOD Lab
- Luciano Bartino
- Nicholas Rocca
- Overtkill
- Overt-War
- Book:
Curse of the Spawn
- Issue:
23
- Date:
August 1998
- Writer(s):
- Artist(s):

- Dwayne Turner
- Chance Wolf
- Todd McFarlane
- Jason Gorder
- Jonathan Glapion
- Tom Orzechowski
- Todd Broeker
- Mark Nicholas
(Pencils)
(Inks)
(Inks)
(Inks)
(Inks)
(Letters)
(Color)
(Color)

- Notes:
- This is the newsstand edition. It is printed on newsprint paper and has a upc "barcode" on the front cover.

- Overt-Resurrection (Overtkill stroyline part 1 of 2)

Dr. Eylan Hessman is a brilliant scientist responsible for breakthroughs in regenerative medicine and robotics. His drive is fueled by a guilt that he was unable to save his father when he was dying. Hessman found new purpose when he discovered he had a half-brother, a hit man for the mafia named Nicholas Rocca. After Nicholas was mortally wounded, Hessman convinced his boss Don Bartino to fund his experiments to save his brother. In return, Hessman turned his brother into the ultimate killing machine: Overtkill.