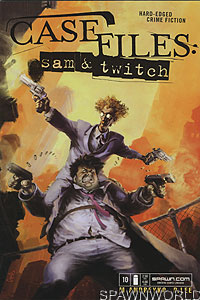 Image: Trent

- Book:
Case Files: Sam and Twitch
- Issue:
10
- Date:
September 2004
- Writer(s):
- Artist(s):

- Paul Lee
- Greg Capullo
- Jay Fotos
- Jimmy Betancourt
- Jason Gonzalez
- Ben Timmreck

(Interiors)
(Cover)
(Color)
(Letters)
(Art direction)
(Graphic design)

- Notes:
(N/A)

- Skeletons Part 4

Seamus Halloran has his lacky Bobby released from police custody. Also, because of Sam's involvement in the case, he now knows how to track down Pete Draven.

Sensing that Pete is now in danger again, Twitch hides him in a brothel while Sam pays a visit to Seamus. Sam informs the elder Halloran that he will no longer be paid off. Seamus takes this to heart and has a hit placed on Sam as well.