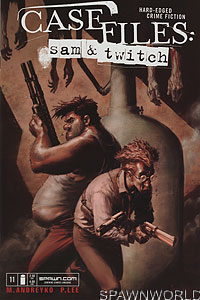 Image: Trent

- Book:
Case Files: Sam and Twitch
- Issue:
11
- Date:
October 2004
- Writer(s):
- Artist(s):

- Paul Lee
- Greg Capullo
- Jay Fotos
- Jimmy Betancourt
- Ben Timmreck
- Jason Gonzalez

(Interiors)
(Cover)
(Color)
(Letters)
(Art direction)
(Graphic design)

- Notes:
(N/A)

- Skeletons Part 5

Kellerman hunts down Sam only to be taken off guard and end up dead himself. Senator Halloran, who had been oblivious to his father's scheming murders, is forced to make an emergency press conference condemning them. He then feebly tries to stand up to his father.

Meanwhile, Pete Draven grows restless waiting at the brothel. When Twitch calls in to check on him, they find he is missing.