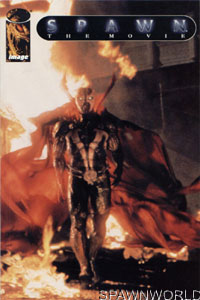 Image: Trent

| | | |
| --- | --- | --- |
| | | |
| | - No entries available yet. | |
| | | |
- Book:
Spawn Movie Adaptation
- Issue:
(N/A)
- Date:
December 1997
- Writer(s):
- Mark Dippe (Story)
- Alan McElroy (Story, Screenplay)
- Ted Adams (Comic Adaptation)
- Artist(s):
- Carlos D'Anda (Pencils)
- Mark Irwin (Inks)
- Art Sinclair (Colors)
- Amie Grenier (Letters)
- Notes:
This is a movie adaptation printed in a trade paperback format.

- Spawn: The Movie

Al Simmons, an Agent for the corrupt A6 organization is murdered by his own and sent to Hell. There he makes a deal with Malebolgia to return to his beloved Wanda in exchange for becoming a hellspawn.

Upon returning to earth he finds his wife remarried and he has been reborn as a hellspawn with a living suit and amazing powers. He vows to use these powers against Hell and the forces who recreated him.