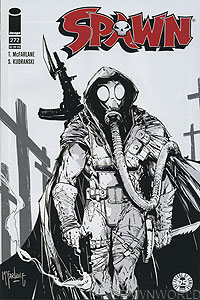 Image: Trent

- Book:
Spawn
- Issue:
272
- Date:
April 2017
- Writer(s):
- Artist(s):

- Szymon Kudranski
- Todd McFarlane

- Fco Pascenscia
- Tom Orzechowski
- Ben Timmreck
- Jordan Butler

(Illustration)
(Cover, Additional Inks)
(Color)
(Letters)
(Art Direction)
(Production)

- Notes:
- There are two covers for this issue. A standard cover, and this black and white "sketch" cover. Both were distributed evenly.

(Cyan storyline part 6)

Al and Cyan once again find themselves fleeing a SWAT team, while Cogliostro seems to have disappeared again. Once they find their bearings, Al begins working on getting Terry released.