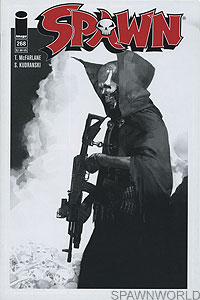 Image: Trent

- Book:
Spawn
- Issue:
268
- Date:
December 2016
- Writer(s):

- Todd McFarlane
- Tom Leveen

(Script, Plot)
(Plot)

- Artist(s):

- Szymon Kudranski
- Fco Pascenscia
- Tom Orzechowski
- Faraz Shanyar
- Ben Timmreck
- Jordan Butler
- Andy Arias

(Illustration)
(Color)
(Letters)
(Cover)
(Art Direction)
(Production)
(Production)

- Notes:
- There are two covers for this issue. This standard cover, and a black and white "sketch" cover. Both were distributed evenly.

(Cyan storyline part 2)

Enraged over the trail of drugs that he believes leads directly to Cyan, Al continues his murderous rampage. Little does he know that Terry himself is Cyan's supplier and that the people he's killing could spell trouble for Terry.