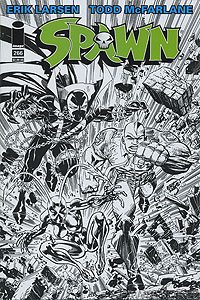 Image: Trent

- Book:
Spawn
- Issue:
266
- Date:
October 2016
- Writer(s):

- Todd McFarlane
- Erik Larsen


- Artist(s):

- Erik Larsen
- Todd McFarlane
- Fco Pascenscia
- Tom Orzechowski
- Ben Timmreck
- Jordan Butler
- Andy Arias

(Illustration, Cover)
(Illustration)
(Color)
(Letters)
(Art Direction)
(Production)
(Production)

- Notes:
- There are four covers for this issue. Two standard covers, and two sketch covers. All were distributed evenly.
- This issue is part of a crossover between Spawn, Ant and Savage Dragon. This issue lkeads directly into Savage Dragon 217.
- This is the final issue of Erik Larsen's run.

(Ant/Dragon crossover part 2 of 2)

Recruited by Ant in her crusade against Alzayah Stone, Spawn and Ant meet up with Malcolm Dragon and together the three of them take on a horde of creatures attacking the city under orders from The Monstress.