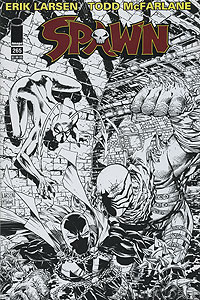 Image: Trent

- Book:
Spawn
- Issue:
265
- Date:
August 2016
- Writer(s):

- Todd McFarlane
- Erik Larsen


- Artist(s):

- Erik Larsen
- Todd McFarlane
- Fco Pascenscia
- Tom Orzechowski
- Ben Timmreck
- Jordan Butler

(Illustration, Cover)
(Illustration)
(Color)
(Letters)
(Art Direction)
(Production)

- Notes:
- There are four covers for this issue. This standard cover, a black and white "sketch" cover, as well as two versions of a "blank" cover. The standard and the sketch covers were distributed evenly.

(Ant/Dragon crossover part 1 of 2)

Al gets to know some of his new acquaintances better, for better or worse. And while out on the prowl, runs into the middle of a fight between the superhero Ant and her villain King Spider.