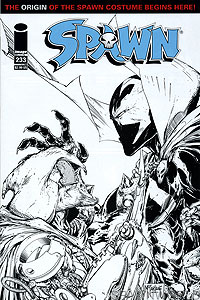 Image: Trent

- Book:
Spawn
- Issue:
233
- Date:
July 2013
- Writer(s):

- Jon Goff
- Todd McFarlane
(Plot)
(Plot, Script)

- Artist(s):

- Szymon Kudranski
- Todd McFarlane
- Fco Plascencia
- Tom Orzechowski
(Interior Illustration)
(Cover)
(Color)
(Letters)

- Notes:
- There are 2 different covers available for this issue. This is the "sketch" cover.
- This "sketch" cover variant was available to retailers at a ratio of 1:25

- Celebrity Savior (part 5 of 6)

Jim Downing finally discovers what has been keeping him up at night. Revelations about Spawn's symbiote and it's past are beginning to be revealed, while elsewhere The Curse has reemerged seeking once again to please his God by exposing the darkness within Downing.