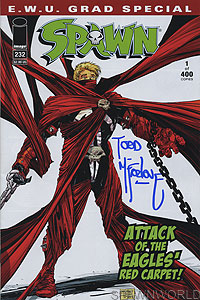 Image: Trent

- Book:
Spawn
- Issue:
232
- Date:
June 2013
- Writer(s):

- Jon Goff
- Todd McFarlane
(Plot)
(Plot, Script)

- Artist(s):

- Szymon Kudranski
- Todd McFarlane
- Fco Plascencia
- Tom Orzechowski
(Interior Illustration)
(Cover)
(Color)
(Letters)

- Notes:
- There are 3 different covers available for this issue. This is the "EWU" edition.
- This "EWU" cover variant was only available to attendees of a speech Todd McFarlane gave at Eastern Washington University on June 14, 2013. There were 400 printed.
- Note that the copy shown is signed, but not all 400 copies were signed.

- Celebrity Savior (part 4 of 6)

Clown has developed a theory on the demise of Al Simmons and he aims to find he truth by paying a visit to an angel. Once there he discusses the past of Jim Downing's soul, as well as it's potential future if the symbiote takes control.