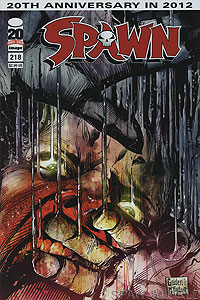 Image: Trent

- Book:
Spawn
- Issue:
218
- Date:
April 2012
- Writer(s):

- Jon Goff
- Todd McFarlane
(Plot)
(Plot, Script)

- Artist(s):

- Szymon Kudranski
- FCO Plascencia
- Michael Golden
- Todd McFarlane
- Tom Orzechowski
- Ben Timmreck
- Joe Ferstl
(Interior Illustration)
(Color)
(Cover Pencils)
(Cover Inks)
(Letters)
(Art Direction)
(Production Artist)

- Notes:
(N/A)

- The Gathering Storm (Part 6 of 6)

Malebolgia and Jim meet once again, and Malebolgia tries to goad Jim into a fight. Urging Jim to retreat, the Clown pulls Jim around the world through the shadows, hoping to lose his former master.

When they become separated, Malebolgia ltracks Jim down and is very displeased. Clown ventures off on his own to retrieve the piece of Malebolgia that he stole and hid within Sam Burke.