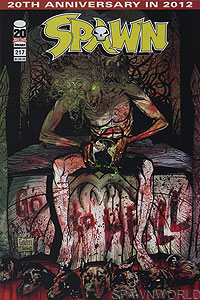 Image: Trent

- Book:
Spawn
- Issue:
217
- Date:
March 2012
- Writer(s):

- Jon Goff
- Todd McFarlane
(Plot)
(Plot, Script)

- Artist(s):

- Szymon Kudranski
- FCO Plascencia
- Michael Golden
- Todd McFarlane
- Tom Orzechowski
- Ben Timmreck
- Joe Ferstl
(Interior Illustration)
(Color)
(Cover Pencils)
(Cover Inks)
(Letters)
(Art Direction)
(Production Artist)

- Notes:
(N/A)

- The Gathering Storm (Part 5 of 6)

Chaos ensues after Jim is shot on live TV and then miraculously heals himself. The Vatican releases a statement urging people to remain calm while Jim voluntarily accompanies the police back to the station for questioning and medical review.

Meanwhile, after having found the Violator's treachery, Malebolgia hunts the demon down and begins exacting his revenge.