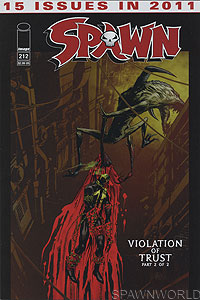 Image: Trent

- Book:
Spawn
- Issue:
212
- Date:
October 2011
- Writer(s):

- Jon Goff
- Will Carlton
- Todd McFarlane
(Plot, Additional Script)
(Story)
(Additional Plot)

- Artist(s):

- Szymon Kudranski
- FCO Plascencia
- Michael Golden
- Tom Orzechowski
- Ben Timmreck
- Joe Ferstl
(Interior Illustration)
(Color)
(Cover Pencils)
(Letters)
(Art Direction)
(Production Artist)

- Notes:
(N/A)

- A Violation of Trust (Part 2 of 2)

Jim and Violator have an intense fight that accomplishes nothing, so they both relax and calm down long enough to grab a beer and discuss things.

Violator is relatively forthright with Jim and explains the threat of Malebolgia, Jim's uniqueness, and his own plans to assume control of Malebolgia's throne. He also explains that even though he is asking for Jim's help, he will find other ways to "encourage" him, should he refuse.