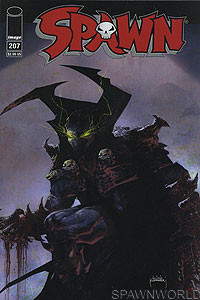 Image: Trent

- Book:
Spawn
- Issue:
207
- Date:
May 2011
- Writer(s):

- Jon Goff
- Will Carlton
- Todd McFarlane
(Plot, Additional Script)
(Story)
(Additional Plot)

- Artist(s):

- Szymon Kudranski
- FCO Plascencia
- Tom Orzechowski
- Ben Timmreck
- Joe Ferstl
(Illustration)
(Color)
(Letters)
(Art Direction)
(Production Artist)

- Notes:
(N/A)

- Q & A (Part 1 of 4)

Twitch and Spawn have a standoff in the alleys that appears to be going nowhere until Twitch mentions the name Al Simmons.

At the hospital, Detective Rowand walks in on a nurse perched over Sam about to inject him with somthing. When he tries to stop her, a battle ensues.