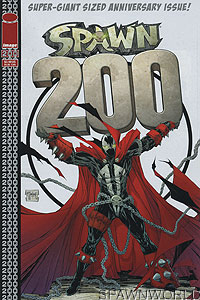 Image: Trent

- Book:
Spawn
- Issue:
200 (Cover A)
- Date:
January 2011
- Writer(s):

- Todd McFarlane
- Robert Kirkman
- Jonathan David Goff
(Story)
(Prologue)
(Co-Plot)

- Artist(s):

- Todd McFarlane
- Michael Golden
- FCO Plascencia
- Tom Orzechowski
- Robert Kirkman
- Szymon Kudranski

- Danny Miki
- Jonathan Glapion
- Lois Buhalis
- Sheila Saldana
- Ivan Plascencia
- Rex Stabbs
- Ben Timmreck
- Joe Ferstl
(Pencils)
(Layouts)
(Color)
(Letters)
(Prologue Pencils)
(Epilogue Pencils, Inks)
(Additional Art)
(Additional Art)
(Additional Letters)
(Color Assists)
(Color Assists)
(Cover Color Assists)
(Art Direction)
(Production Artist)

- Notes:
- 1st appearance of Bludd (cameo)
- There were a total of 11 different covers available for this issue.

Spawn, the Violator, and an Omega Spawn have an all out brawl in the alleys as the Freak watches on. Apparently, at the moment of Al Simmons' second death, he inadvertantly created the Omega class of hellspawn and made his symbiote much more powerful.

In the midst of the fight, Freak pulls the Violator with him to Hell and reveals his true identity - drastically altering Violator's plans.

Also amidst the fight, Jim is knocked unconscious and recovers a forgotten memory of Al Simmons that partially explains how he became Spawn.