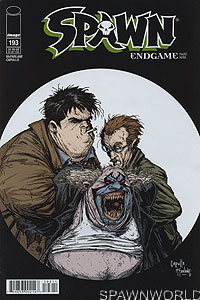 Image: Trent

- Book:
Spawn
- Issue:
193 (B/W Cover)
- Date:
June 2009
- Writer(s):
- Artist(s):

- Whilce Portacio
- Todd McFarlane
- Jay Fotos
- Greg Capullo
- Tom Orzechowski
(Pencils)
(Inks)
(Color)
(Layouts)
(Letters)

- Notes:
- 1st appearance of Carlos Nortego
- There were two covers available for this issue, one in color, the other in black and white. Both were equally distributed.

- Endgame Part Nine (of 12)

The Violator learns there is a new hellspawn on Earth and decides to treat this one differently than the last. After he toys with Jim for a short while, Violator has an encounter with detectives Sam and Twitch.

Elsewhere, detectives from Langley, VA who have been looking into the suicide of Bill Winston (after Patient 47 awoke unexpectedly) decide to take their investigations to New York City.