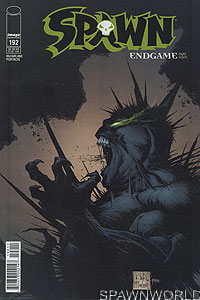 Image: Trent

- Book:
Spawn
- Issue:
192
- Date:
June 2009
- Writer(s):
- Artist(s):

- Whilce Portacio
- Todd McFarlane
- Jay Fotos
- Greg Capullo
- Tom Orzechowski
(Pencils)
(Inks)
(Color)
(Layouts)
(Letters)

- Notes:
(N/A)

- Endgame Part Eight (of 12)

The Violator's new accomplice searches for another recruit named Claudio and is forced into violence to get what he wants.

In the alleys, Jim Downing is horrified to find that the angel he left pinned to a wall has been attacked and left wingless and insane. He then has an encounter with an unexpected person, the Freak.