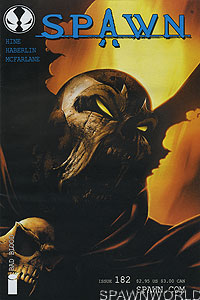 Image: Trent

- Book:
Spawn
- Issue:
182
- Date:
September 2008
- Writer(s):

- David Hine
- Todd McFarlane

- Artist(s):

- Brian Haberlin
- Rodel Noora
- Tom Orzechowski
- Andy Troy
- Francis Takenaga
- Diana Sanson
(Pencils, Inks)
(Inks)
(Letters)
(Color)
(Production)
(Production)

- Notes:
- Morana's identity revealed

- Bad Blood

In Limbo, Mammon leads Al, Wanda, Cyan and Nyx into a castle to meet his ally. Nyx has been overtaken by Spawn's symbiote, but Mammon keeps it under his control.

As Mammon reveals who his ally is, inside the castle she partakes in a bloody ritual that transforms her appearance into that of a human.