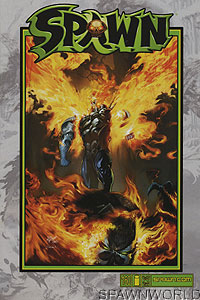 Image: Trent

- Book:
Spawn
- Issue:
160
- Date:
September 2006
- Writer(s):
- Artist(s):

- Philip Tan
- Danny Miki
- Allen Martinez
- Ryan Winn
- Crime Lab Studios
- Jonathan Glapion
- Tom Orzechowski
- Brian Haberlin
- Andy Troy
- Matt Milla
(Pencils)
(Inks)
(Inks)
(Inks)
(Inks)
(Inks)
(Letters)
(Color)
(Color)
(Color)

- Notes:
- Death of Spawn
- Includes "Twitch Journal #8": In his journal, Twitch discusses Spawn, recent events and armageddon.

- (untitled) (Armageddon storyline part 7 of 11)

The people who were enraptured, including Granny Blake, find that Heaven is not what they expected. Shortly after they arrive, God transforms them into an army with which he can defeat Satan.

In Hell, Satan scrambles to counter the rapture, as well as to deal with Mammon.

Elsewhere, Spawn faces the Disciple and discovers that there are 11 of them.