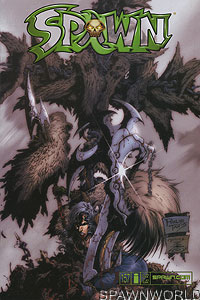 Image: Trent

- Book:
Spawn
- Issue:
157
- Date:
May 2006
- Writer(s):
- Artist(s):

- Philip Tan
- Danny Miki
- Allen Martinez
- Ryan Winn
- Crime Lab Studios
- Tom Orzechowski
- Brian Haberlin
- Andy Troy
(Pencils)
(Inks)
(Interior Inks)
(Interior Inks)
(Interior Inks)
(Letters)
(Color)
(Color)

- Notes:
Includes "Twitch Journal #5": In his journal, Twitch discusses Spawn, recent events and armageddon.

- (untitled) (Armageddon storyline part 4 of 11)

Zera annihilates the Forgotten Ones then leaves for Earth to find God. On Earth, Spawn discusses with his friends their findings on the lost souls within him.

At the Fitzgeralds, little Jake and Kate have tied everyone up and are holding them at gunpoint. As tehy make their final plans to murder their family, Spawn and Zera arrive.