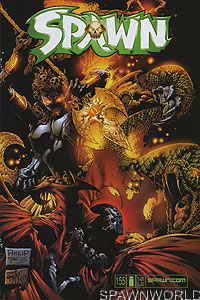 Image: Trent

- Book:
Spawn
- Issue:
156
- Date:
March 2006
- Writer(s):
- Artist(s):

- Philip Tan
- Danny Miki
- Allen Martinez
- Ryan Winn
- Crime Lab Studios
- Tom Orzechowski
- Brian Haberlin
- Andy Troy
(Pencils)
(Inks)
(Inks)
(Inks)
(Inks)
(Letters)
(Color)
(Color)

- Notes:
Includes "Twitch Journal #3": In his journal, Twitch discusses Spawn, recent events and armageddon.

- (untitled) (Armageddon storyline part 2 of 11)

Spawn journeys with Christopher to India, where followers of Kali, and possibly Kali herself, have been slaughtering people in large numbers. Together, Spawn and Christopher enlist the help of 2 more lost souls that reside within Spawn.

Elsewhere, the Kitamuras continue to fight the zombie uprising, and Jake and Kate Fitzgerald continue to fight each other - with violent consequences.