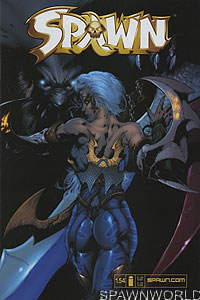 Image: Trent

- Book:
Spawn
- Issue:
154
- Date:
February 2006
- Writer(s):
- Artist(s):

- Philip Tan
- Danny Miki
- Allen Martinez
- Ryan Winn
- Crime Lab Studios
- Tom Orzechowski
- Brian Haberlin
- Andy Troy
- Rob Ro
(Pencils)
(Inks)
(Inks)
(Inks)
(Inks)
(Letters)
(Color)
(Color)
(Color)

- Notes:
- 1st appearance of Zera
- 1st appearance of Hiroshi Kitamura
- 1st appearance of Kumiko Kitamura
- Includes "Twitch Journal #2": In his journal, Twitch discusses Spawn, recent events and armageddon.

- (untitled) (Armageddon storyline part 1 of 11)

To quell a zombie uprising in Tennessee, Spawn unleashes two of the souls within him. Together they fight to defeat the undead and discover how they came to be in this situation.

In Heaven, the Forgotten Ones battle against the angels and have reached the gates of the Shining City. As the angels contemplate their options, a new leader takes control.