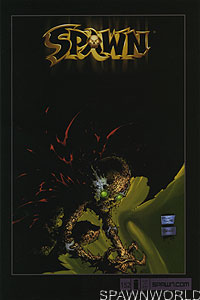 Image: Trent

- Book:
Spawn
- Issue:
152
- Date:
December 2005
- Writer(s):
- Artist(s):

- Philip Tan
- Danny Miki
- Allen Martinez
- Ryan Winn
- Crime Lab Studios
- Tom Orzechowski
- Brian Haberlin
- Andy Troy
- Matt Milla
(Pencils)
(Inks)
(Inks)
(Inks)
(Inks)
(Letters)
(Color)
(Color)
(Color)

- Notes:
Spawn is revealed to have many souls within him.

- (untitled) (Thamuz storyline part 3 of 4)

Christopher is briefly reunited with his mother before being led away once again by the Man of Miracles. He is sent into Hell to find and help Spawn.

On Earth, Sam and Twitch are trying to make sense of the signs of the apocalypse appearing all around them. In a mysterious old circus, they meet young Christopher and follow him into Hell.