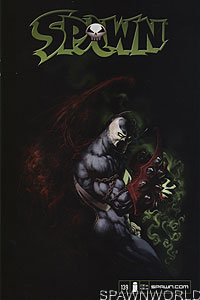 Image: Trent

- Book:
Spawn
- Issue:
139
- Date:
October 2004
- Writer(s):

- Brian Holguin
- Todd McFarlane
(Plot, Story)
(Plot)

- Artist(s):

- Angel Medina
- Nat Jones
- Danny Miki
- Victor Olazaba
- Allen Martinez
- Crime Lab Studios
- Greg Capullo
- Tom Orzechowski
- Brian Haberlin
- Jay Fotos
- Jason Gonzalez
- Ben Timmreck

(Pencils)
(Pencils, Inks)
(Inks)
(Inks)
(Inks)
(Inks)
(Cover)
(Letters)
(Color)
(Color)
(Art direction)
(Graphic design)

- Notes:
- Mammon named for the first time within the storyline
- 1st appearance of She-Spawn

- Hellbound (part 1 of 3)

Nyx has made a decision to help her friend Thea, at the cost of her relationship with Spawn. Though she won't accept Mammon's offers, she begins a ritual to steal Spawn's power away from him. Meanwhile, Spawn lies unconscious in a hospital bed as his Al Simmons persona, unaware that a large portion of himself is about to be stripped away.