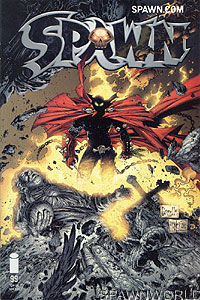 Image: Trent

- Book:
Spawn
- Issue:
99
- Date:
September 2000
- Writer(s):

- Brian Holguin
- Todd McFarlane
(Plot, Story)
(Plot)

- Artist(s):

- Greg Capullo
- Danny Miki
- Tom Orzechowski
- Dan Kemp
- Brian Haberlin
- Boyd Williams
(Pencils)
(Inks)
(Letters)
(Color)
(Color)
(Art Design)

- Notes:
- Urizen imprisoned once again
- 1st appearance of the Heavenly Hosts

- The Edge of Darkness (Urizen storyline part 5 of 6)

Angela singlehandedly holds off a phalanx of angels intent on defying the orders of God until the Heavenly Hosts themselves arrive to demand an end to the fight.

Back on Earth, Angela rejoins Spawn in battleing Urizen and together, the renegade angel and renegade hellspawn, combined with the powers of Earth, defeat the beast.

With the battle won, Spawn seeks out the true culprit behind the chaos.