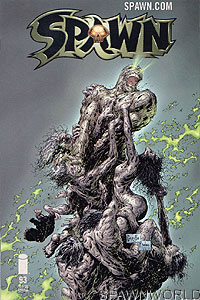 Image: Trent

- Book:
Spawn
- Issue:
93
- Date:
March 2000
- Writer(s):

- Brian Holguin
- Todd McFarlane
(Plot, Story)
(Plot)

- Artist(s):

- Greg Capullo
- Danny Miki
- Todd McFarlane
- Tom Orzechowski
- Dan Kemp
- Brian Haberlin
- John Gallagher
- Boyd Williams
(Pencils)
(Inks)
(Cover Inks)
(Letters)
(Color)
(Color)
(Art Design)
(Art Design)

- Notes:
1st appearance of Urizen

- The Devil's Banquet

At a country house in Sussex, England, a group of occultists are carrying out a dark game. When they began, there were 13 of them. At each full moon, one of them is chosen through a lottery to be hunted and eaten by the others. Tonight's "bunny", however, decides he doesn't want to play anymore.