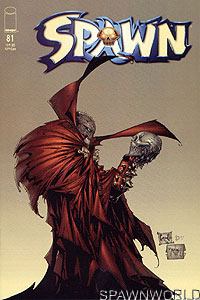 Image: Trent

- Book:
Spawn
- Issue:
81
- Date:
March 1999
- Writer(s):

- Todd McFarlane
- Brian Holguin
(Plot)
(Plot, Story)

- Artist(s):

- Greg Capullo
- Danny Miki
- Todd McFarlane
- Tom Orzechowski
- Dan Kemp
- Brian Haberlin
- John Gallagher
- Boyd Williams
(Pencils)
(Inks)
(Cover Inks)
(Letters)
(Color)
(Color)
(Art Design)
(Art Design)

- Notes:
Billy Kincaid's return is revealed

- Devil Inside (Kincaid storyline part 5 of 9)

Spawn and Cog learn that the mysterious marks they have been finding signify a hellish practice called Diabolus Interium - where an evil spirit from Hell is sent to corrupt the souls of humans and gather them for its master.

The evil soul is none other than Billy Kincaid, back to torment his old foes. His current target is a young boy named Mark Lucas - forced to give in to his darkest impulses, Mark's soul is in danger of damnation.