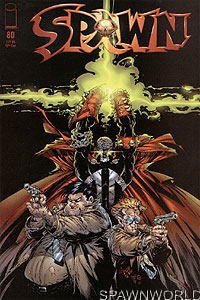 Image: Trent

- Book:
Spawn
- Issue:
80
- Date:
February 1999
- Writer(s):

- Todd McFarlane
- Brian Holguin
(Plot)
(Plot, Story)

- Artist(s):

- Greg Capullo
- Danny Miki
- Tom Orzechowski
- Brian Haberlin
- Dan Kemp
- John Gallagher
- Boyd Williams
(Pencils)
(Inks)
(Letters)
(Color)
(Color)
(Art Design)
(Art Design)

- Notes:
(N/A)

- The Cleansing (Kincaid storyline part 4 of 9)

When their investigations lead Sam, Twitch and Spawn to the door of Sarah Frost, Spawn confronts her about her crimes. While the detectives wait outside, Spawn tortures her with her greatest fears.

Later, back at their office, Sam and Twitch receive a taunting message and a box that reveals they may not have caught the true murderer.