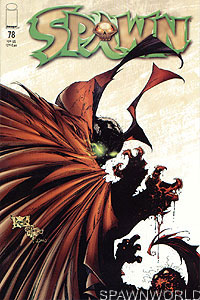 Image: Trent

- Book:
Spawn
- Issue:
78
- Date:
November 1998
- Writer(s):

- Todd McFarlane
- Brian Holguin

- Artist(s):

- Greg Capullo
- Danny Miki
- Tom Orzechowski
- Brian Haberlin
- Dan Kemp
- John Gallagher
- Boyd Williams
(Pencils)
(Inks)
(Letters)
(Color)
(Color)
(Art Design)
(Art Design)

- Notes:
(N/A)

- Bloodstains (Kincaid storyline part 2 of 9)

Sam watches over his partner Twitch as he lies near death in a hospital room. When Spawn arrives, he offers Sam a chance to save Twitch, but it will come at a cost.

Meanwhile, the string of deaths in and around Rat City draws the attention of both Sam and Spawn. Sam's investigations lead him to believe there is some sort of serial killer afoot, while Spawn's research shows there is some sort of demonic connection as well.