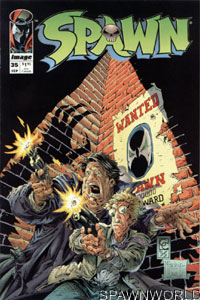 Image: Trent

- Book:
Spawn
- Issue:
35
- Date:
September 1995
- Writer(s):
- Todd McFarlane
- Artist(s):

- Greg Capullo
- Todd McFarlane
- Kevin Conrad
- Tom Orzechowski
- Steve Oliff
- Quinn Supplee
- Olyoptics
(Pencils)
(Inks)
(Art Assists)
(Letters)
(Color)
(Color)
(Color)

- Notes:
(N/A)

- Set Up (part 1 of 2)

Twitch returns to work and is met with little enthusiasm from Chief Banks. In his absence, Sam has been working to connect the dots between Banks and Kincaid, but so far has been unsuccessful.

Later, after some pressure from Wynn, Chief Banks decides to go into the alleys and find Spawn himself. When Sam and Twitch find out, they realize Banks doesn't know he's disobeying Spawn's direct threat.