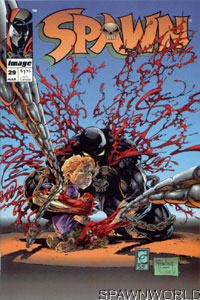 Image: Trent

- Book:
Spawn
- Issue:
29
- Date:
March 1995
- Writer(s):
- Todd McFarlane
- Artist(s):

- Greg Capullo
- Todd McFarlane
- Kevin Conrad
- Tom Orzechowski
- Steve Oliff
- Olyoptics
(Pencils)
(Inks)
(Art Assists)
(Letters)
(Color)
(Color)

- Notes:
- 1st appearance of Eddie Frank
- First revealed that Al Simmons hit Wanda

- Father

Wounded and confused after returning to Earth, Spawn finds himself on a sidewalk somewhere in Alabama. A young boy named Andy takes him home but hides him from his father.

Spawn quickly discovers that Andy and his brother are often beaten ruthlessly by their father, and he decides that he must intervene.