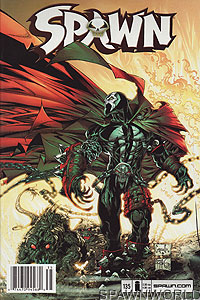 Image: Trent

- Book:
Spawn
- Issue:
135
- Date:
May 2004
- Writer(s):

- Brian Holguin
- Todd McFarlane
(Plot, Story)
(Plot)

- Artist(s):

- Angel Medina
- Danny Miki
- Victor Olazaba
- Allen Martinez
- Crime Lab Studios
- Greg Capullo
- Tom Orzechowski
- Dan Kemp
- Jason Gonzalez
- Ben Timmreck
(Pencils)
(Inks)
(Inks)
(Inks)
(Inks)
(Cover pencils)
(Letters)
(Color)
(Graphic design)
(Art direction)

- Notes:
- This is the newsstand edition. It is printed on newsprint paper and has a upc "barcode" on the front cover.


- A Thousand Clowns Part Two (of 5)

The Violator, still posessing the body of Jason Wynn, has chained Spawn up in the deadzone. There, he and his henchmen taunt and torture the hellspawn until he drifts unconscious. While unconscious Spawn has a vision in which he returns to his childhood home to find Mammon waiting for him.

Meanwhile, Nyx continues her efforts to try to help her friend Thea. She visits their old friend Lily, but does not receive a warm reception.