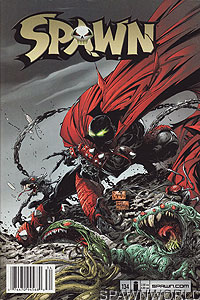 Image: Trent

- Book:
Spawn
- Issue:
134
- Date:
March 2004
- Writer(s):

- Brian Holguin
- Todd McFarlane
(Plot, Story)
(Plot)

- Artist(s):

- Angel Medina
- Danny Miki
- Victor Olazaba
- Allen Martinez
- Crime Lab Studios
- Greg Capullo
- Tom Orzechowski
- Brian Haberlin
- Michael Seghers
- Ben Timmreck

(Pencils)
(Inks)
(Inks)
(Inks)
(Inks)
(Cover)
(Letters)
(Color)
(Graphic Design)
(Art Direction)

- Notes:
- This is the newsstand edition. It is printed on newsprint paper and has a upc "barcode" on the front cover.
Mammon is named for the first time, although it is only in the summary for issue 133 (on the inside cover).

- A Thousand Clowns Part One (of 5)

Nyx can't stop thinking about her friend (Thea) in Hell. She asks Spawn to show her what it's like there, but the small glimpse he gives her is terrifying. In deperation, she seeks out Mammon to strike a deal.

Meanwhile, Spawn finally zeros in on the uneasy feeling that he has had lately. He finds a large number of evil clowns have moved into his old home in the alleys, led by the Violator.