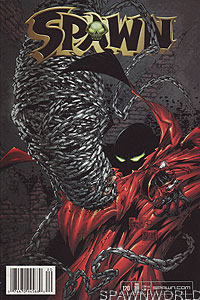 Image: Trent

- Book:
Spawn
- Issue:
120
- Date:
October 2002
- Writer(s):

- Brian Holguin
- Todd McFarlane
(Plot, Story)
(Plot)

- Artist(s):

- Angel Medina
- Danny Miki
- Victor Olazaba
- Allen Martinez
- Crime Lab Studios
- Greg Capullo
- Todd McFarlane
- Tom Orzechowski
- Dan Kemp
- Brian Haberlin
- Ben Timmreck
- Gentry Smith
(Pencils)
(Inks)
(Inks)
(Inks)
(Inks)
(Cover pencils)
(Cover inks)
(Letters)
(Color)
(Color)
(Art direction)
(Graphic design)

- Notes:
- This is the newsstand edition. It is printed on newsprint paper and has a upc "barcode" on the front cover.
- Cog's true identity revealed
- Spawn returned to Earth as Al Simmons
- Cain takes control of Hell
- The Redeemer is trapped in Hell

- A Season in Hell Part IV

Cog's true identity as the first-of-killers, Cain himself, is revealed. He convinces Redeemer to recover Mammon's box for him and once he has it, he presents it to the new king of Hell - Spawn. He explains what it is: the last remaining piece of Eden, all that remains of paradise.

Cog offers the piece of Eden to Spawn so that he can carry out his plans of remaking Earth and Hell, but his intentions are not all that they appear to be.