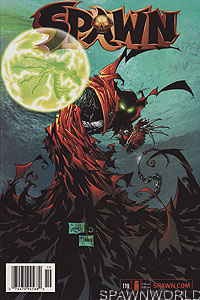 Image: Trent

- Book:
Spawn
- Issue:
119
- Date:
August 2002
- Writer(s):

- Brian Holguin
- Todd McFarlane
(Plot, Story)
(Plot)

- Artist(s):

- Angel Medina
- Danny Miki
- Victor Olazaba
- Allen Martinez
- Crime Lab Studios
- Greg Capullo
- Todd McFarlane
- Tom Orzechowski
- Dan Kemp
- Brian Haberlin
- Ben Timmreck
- Gentry Smith
(Pencils)
(Inks)
(Inks)
(Inks)
(Inks)
(Cover pencils)
(Cover inks)
(Letters)
(Color)
(Color)
(Art direction)
(Graphic design)

- Notes:
- This is the newsstand edition. It is printed on newsprint paper and has a upc "barcode" on the front cover.


- A Season in Hell Part III

After the death of Malebolgia, Hell erupted into civil war and chaos. Violator and his brothers seize control of the throne in Spawn's absence, but they have trouble maintaining control.

Now that Spawn and Cog have arrived, Violator demands that Spawn abdicate the throne or pay a price worse that what he has suffered already.