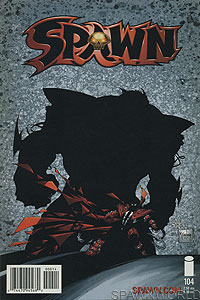 Image: Trent

- Book:
Spawn
- Issue:
104
- Date:
February 2001
- Writer(s):

- Brian Holguin
- Todd McFarlane
(Plot, Story)
(Plot)

- Artist(s):

- Angel Medina
- Danny Miki
- Victor Olazaba
- Sean Parsons
- Greg Capullo
- Todd McFarlane
- Tom Orzechowski
- Brian Haberlin
- Dan Kemp
- Haberlin Studios
- Boyd Williams
(Pencils)
(Inks)
(Inks)
(Inks)
(Cover Pencils)
(Cover Inks)
(Letters)
(Color)
(Color)
(Color)
(Art Design)

- Notes:
- This is the newsstand edition. It is printed on newsprint paper and has a upc "barcode" on the front cover.
- Due to an error on the upc code, there are two versions of this issue. This one with the printed upc, and one with a corrected sticker placed atop the printed upc.

- Cautionary Tales - Part 3 (of 3): Town Called Malice

Malice, Pennsylvania rebuilt after being ravaged by Urizen. In fact, they seem to have all had the whole event blocked from their memories. They know many people died, but no one remembers why or asks questions.

When three young boys playing on the Devil's Right Hand accidentally unleash a bit of Urizen once again, Spawn is forced to return.